Publication date:2019-04-08
ISSUE:33
In Response to Market Application Trends, Nan Yun's Screws Continue to Upgrade
In Response to Market Application Trends, Nan Yun's Screws Continue to Upgrade
With the development of innovative materials, the global plastics and rubber industry continues to upgrade the process and equipment technology, moving forward in the direction of intelligence, locking in technology research and development, manufacturing lightweight and thin-form applications that meet the needs of the consumer market.
Nan Yun Industrial is well-known in the industry for its professional customized screws and barrels. Nan Yun manufactures customized screws and barrels for the plastic-rubber machineries such as injection molding machineries, pellet extruder machineries, blown bag extrusion machineries, bottle blow molding machine extruders, board extrusion machineries, extrusion laminating machineries, co-rotating and counter-rotating twin screw extruders and other key components. Nan Yun has created a strong reputation among its customers with its strong after sale service.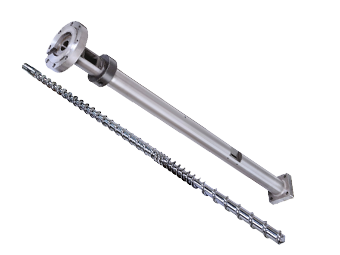 Nan Yun's pellet extruder machinery screw and barrel. For more products information, please click here
Nan Yun was founded 25 years ago, and its high-precision screws has been sold to more than 60 countries and regions around the world. Nan Yun provides customers with stable production of high-quality precision components and high-value products such as medical equipment, automotive components, construction appliances, 3C products, and so on. Nan Yun's quality is trusted by international customers such as Germany, Japan and the United States.
Facing with market application trends, Nan Yun actively promotes technology and cooperates with customers to develop the most competitive screws and barrels. The desire to solve problems for customers is the driving force of Nan Yun to grow and thrive.